Reservations and Information 775-557-2804
Nevada Off Road Trails
Back Country Access
The Iveson Ranch is a uniquely situated central point to access any part of the BlackRock Desert/High Rock Canyon - Emigrant Trails National Conservation Area easily and quickly. Snuggled up against the Eastern edge of the impressive Granite Range, the back gate opens into an amazing expanse of open country and recreational opportunity.

For ATV and motorcycle enthusiasts, an afternoon ride takes you to the 7500' level and looking down to the desert floor. From this view, one sees and understands just how big and how flat the Black Rock Desert really is. Some 70 miles distant one can make out the mining area of Sulpher.

The Negro Creek basin is one of the major basins in the area. It provides home to all of the wildlife you would expect to see in Northern Nevada including wild horses, mule deer, pronghorn, raccoon, badger, coyote, bobcat, cougar and bighorn sheep. Out the Iveson Ranch back gate the entire drainage system is within easy reach by ATV or motorcycle. You can take an afternoon cruise through the rugged terrain and be back for a ranch style family BBQ!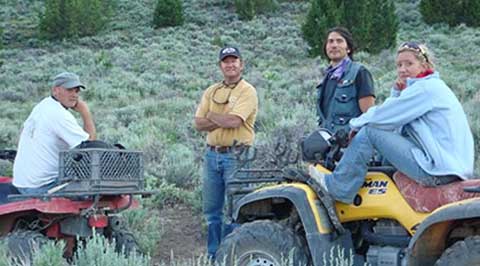 POB 269 • Gerlach, Nevada 89412
Please Call Us: 775-557-2804
Or Email: JB@IvesonRanch.com