Reservations and Information 775-557-2804
Activities in Nevada
Horseback Riding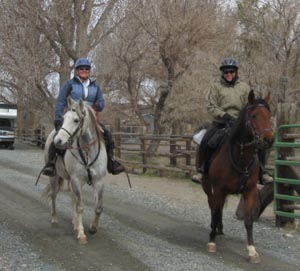 Bring your own horses to ride out our back gates into the last true American West.
As the desert flora and fauna come alive in the spring time, the wild flowers are really something to see and you may catch a mule deer frolicking in a mountain meadow or scare a Stallion from his hold atop a bald hill as you ride your horses.
The Iveson Ranch has many corrals which are convenient and easy to feed and water your animals after a days' ride. Each corral is equipped with feeders, water troughs and mineral licks. Bring your own hay or pay $10/day for us to feed your horses locally grown triticale hay. Horses LOVE triticale!
Hunting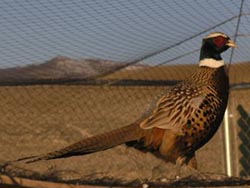 We are a Wildlife Conservation Ranch and manage our water and feed supplies for wild game. The cost of maintaining nets, and a brooding program for Chukar Partridge and Gambels Quail is offset with some limited pheasant hunting. Pen raised pheasants are excellent game for eating! Many friends bring their kids and/or young dogs up for training over planted pheasants. Iveson Ranch is in the middle of the best wild chukar populations in Northern Nevada. Come hunt wild birds on Saturday, then hunt planted birds on Sunday. Share great memories with family and friends at the Iveson Ranch. We try to have mature pheasants available from October through February.
Hiking
Unlimited hiking abounds right outside our fence. We can suggest some areas to explore, or you can venture out on your own. The Granite Mountains are rich with secret canyons and quiet spiritual places to explore ~ or you can retrace the wagon trains through High Rock Canyon on the Applegate-Lassen Historic Trail. Please RESPECT and PROTECT these places!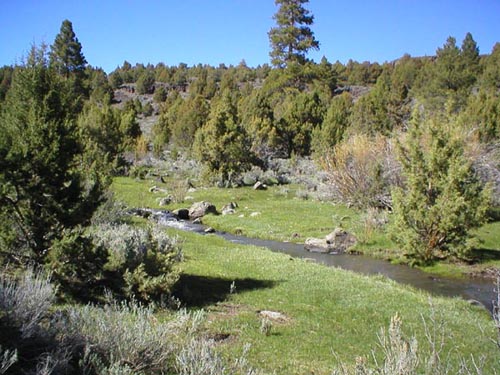 Back Country Access
Iveson Ranch is a perfect jumping off point to explore the Black Rock/High Rock Desert, and the surrounding mountains, valleys, and canyons on dirt roads with your motorcycle or ATV.
Read more on our Back Country Access page.
Other activities you might enjoy at Iveson Ranch include photography, birding, hunting for opals, or singing around the campfire!
POB 269 • Gerlach, Nevada 89412
Please Call Us: 775-557-2804
Or Email: JB@IvesonRanch.com